2016
---
November 26th @ 8:00pm
Games In Sound, a Performance
​Game creation like most media arts is a trans-disciplinary practice. This performance will cross many artistic and stylistic boundaries to reveal the many overlaps with other art forms and genres. Performing will be Dispersion Lab, Luis Hernandez and Andrew Shenkman. This performance is part of a weekend-long Soundhackers meetup that also includes artist panels in the afternoon of Saturday November 26
Performances are co-curated for this meetup event with Daniele Hopkins of Electric Perfume.
I. Myo Improv by Dispersion Lab
Doug Van Nort, the Canada Research Chair at York University and distinguished electroacoustic sound artist, has started the Dispersion Lab, which is a studio and a live ensemble comprised of graduate and undergraduate students as well as artists from the local community. They explore telematic performance, improvisation, laptop performance and gestural conducting among their prolific artistic activities. Include in this performance are Ian Jarvis and Michael Palumbo.
II. EngineBaroque by Luis Hernandez
EngineBaroque is a live electro-acoustic performance. Luis controls a custom-made 3d environment –a digital extrapolation of Kurt Schwitter's Merzbau, imbued with locative sounds. As he navigates this artificial architecture, he samples sounds in the environment, manipulating them in real-time with tape machines and samplers, creating a live electro-acoustic space located somewhere between the physical and digital world.
III. Hypergame by Andrew Shenkman
Prepare your body for the game-story-musical event of a lifetime! Inspired by tabletop RPGs, improv comedy and rock & roll, Hypergame Storytime: The Musical invites the audience to take their rightful place as the star of an intergalactic, time travelling, life afirming odyssey about the power of the human spirit and butts probably, whatever, just trust us. What is it? What isn't it! It's all your favourite activities and interests smushed together with healthy dose of awkwardness, imagination and friendship.
Electric Perfume
805 Danforth Avenue, Toronto

---
Tuesday November 22nd @ 5:00-7:00pm
​Please join us for a very special concert by John Driscoll, founding member of Composers Inside Electronics
with an opening set by the Electro-Acoustic Orchestra
Program:
Electro-Acoustic Orchestra (dir. Doug Van Nort) – Conducted Improvisation
Performers: Chris Anderson-Lundy, Robert Appleton, David Bandi, Aaron Corbett, Carlos De Leon, Marcello Fiorini, Glen Hall, Ian Macchiusi, Sabatino Muccilli, Mark McGugan, William Osmon, Mackenzie Perrault, Liz Petzold, Ted Phillips, Danny Sheahan, Fae Sirois and Lauren Wilson.

Impulsions – Phil Edelstein (2015)
Performer: John Driscoll

Speaking in Tongues – John Driscoll (2012)
Performers: John Driscoll, Doug Van Nort

Microphone – David Tudor (1970)
Performer: John Driscoll
About:
JOHN DRISCOLL is a composer/sound artist who is a founding member of Composers Inside Electronics (CIE) and collaborated on David Tudor's Rainforest IV project since its inception in 1973. He has toured extensively in the US and Europe with: CIE, David Tudor, Douglas Dunn & Dancers, Maida Withers Dance Construction Co., Stephen Petronio Company, and as a solo performer.
For over 40 years his work has focused on robotic instruments, compositions and sound installations for unique architectural spaces, rotating loudspeakers, and music for dance. He is a pioneer in performance of live electronic music and is know for his innovative electro-acoustical instruments. His work spans many disciplines and has included performances/collaborations with artists: David Tudor, Ralph Jones, Paul DeMarinis, Linda Fisher, Ron Kuivila, Phil Edelstein, Bill Viola, Tom Hamilton, David Moss, Matt Rogalsky, Richard Lerman, Doug Van Nort and many others. He has created music for the Merce Cunningham Dance Co., Douglas Dunn & Dancers, and Maida Withers Dance Construction Co.
His work has been presented at the Kitchen (NYC), Festival d'Automne (Paris), Holland Festival (Amsterdam), Akademie der Künste (Berlin), Museum of Modern Art (Warsaw), MoMA (NYC), Museum der Moderne (Salzburg) and others. He has received numerous awards including a Berlin Residency from the DAAD Berliner Künstlerprogram in 1985/86.
In 2014, he was artist-in-residence at Harvestworks (NYC) developing a work for robotic highly focused speakers, and recently completed new works for ultrasonic instruments. He is reviving Tudor's Pavilion works in conjunction with CIE, E.A.T. and the David Tudor Project. He was recently the David Tudor Composer-In-Residence at Mills College and has been working on Phil Edelstein's Impulsions work and on a series of performance works with ultrasonic instruments under the title of Speaking in Tongues and sound installations using ultrasound Slight Perturbations.
In 2015, he and Phil Edelstein collaborated on the sound installation Rainforest V. Rainforest V (variation 1) has been acquired by MoMA (NYC) in 2016 as part of their collection and Rainforest V (variation 2) was acquired in 2015 as part of the collection of Museum der Moderne (Salzburg).
His recent album Fishing for Sound (Berlin) is available on iTunes and other works are on Edition Block, Orange Mountain Music, New World Records and Edition RZ and others.
The Electro-Acoustic Orchestra (dir. Doug Van Nort) is an ensemble comprised of a mixture of acoustic and electronic performers. It is an emergent sonic organism that evolves through collective attention to all facets of sound, soundpainting-inspired conducting, commissioned pieces and improvisational practice. The ensemble functions both as a music course during the Fall semester, as well as the year-round resident ensemble for the DisPerSion Lab where it integrates members of the larger Toronto improvising community.
​
Members for this performance are Chris Anderson-Lundy, Robert Appleton, David Bandi, Aaron Corbett, Carlos De Leon, Marcello Fiorini, Glen Hall, Ian Macchiusi, Sabatino Muccilli, Mark McGugan, William Osmon, Mackenzie Perrault, Liz Petzold, Ted Philips, Danny Sheahan, Fae Sirois and Lauren Wilson.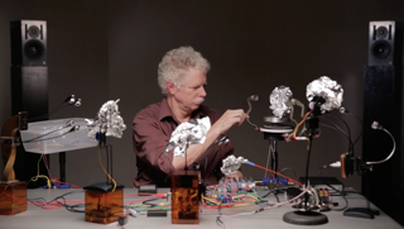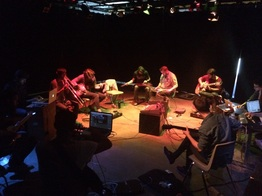 ---
Wednesday November 2nd, 10:00pm
Tranzac Club
292 Brunswick Ave., Toronto
416 Creative Improvisers Festival Presents:
​
Electro-Acoustic Orchestra (dir. Doug Van Nort), feat. Chris Anderson-Lundy, Robert Appleton, David Bandi, Aaron Corbett, Marcello Fiorini, Glen Hall, Mackenzie Perrault, Ted Philips, Danny Sheahan, Fae Sirois and Lauren Wilson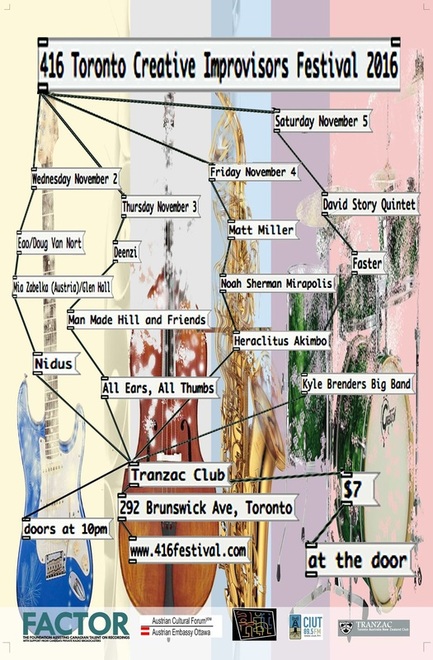 ---
in Partnership with the Music Gallery and the X-Avant Festival:
An Electro-Acoustic Quartet Improvisation Featuring
Pauline Oliveros (v-accordion) / Ione (spoken word) / Anne Bourne (cello) / Doug Van Nort (electronics)Friday, October 14
Doors: 7pm | Concert: 8pm
The Music Gallery, 197 John St.
Tickets: $20 Regular | $10 Members/Students |$15 Advance at musicgallery.org
​
Friday's performance is a multichannel, improvisational performance in a rich yet spacious combination of the newest directions of each contributor's artistry. In recent years, Oliveros has taken to performing with a Roland digital accordion that has extended her sonic range. Her partner Ione improvises text/sound art, while Anne Bourne, herself a crucial contributor to the Music Gallery over several decades, deploys her sublime experiments in cello. Doug Van Nort captures and transforms acoustic signals from his collaborators and own voice, improvising beautiful electronics diffused over 8 speakers.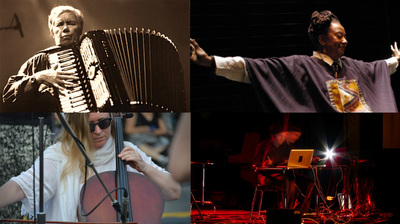 ---
Doug Van Nort and the DisPerSion Lab are pleased to Present:
2016 Wendy Michener Lecture: Pauline Oliveros & Ione
Friday October 14th
11am-1pm
Tribute Communities Recital Hall
York University
For the 2016 Wendy Michener Lecture, the Sensorium Centre, the DisPerSion Lab and the Music Gallery are pleased to present two legendary mavericks of the experimental music and arts scene. The lecture begins with PAULINE OLIVEROS, a senior figure in contemporary American music whose career spans fifty years of boundary dissolving music making. Pauline will discuss her life practice of Deep Listening, which has blossomed into an international community of certified practitioners, artists and scholars. She will discuss a recent project, Sensational Sounds for hearing and non-hearing performers, which brings together hearing and nonhearing performers in ensemble performance, utilizing new instruments built for this context. Pauline will then be joined by IONE, a noted author, playwright/director and poet whose works include the critically acclaimed memoir, Pride of Family Four Generations of American Women of Color, Listening in Dreams and This is a Dream! Pauline and Ione will discuss their current work in progress, The Nubian Word for Flowers, a mixed reality opera. This major work involves an international team of collaborators, cutting edge technology, and immerses the audience in a mythology that spans from Lord Kitchener and his Ontario town namesake to the Nubian people of the Nile River.
A Question and Answer period will follow the lecture.
This lecture is also part of the programming for the Music Gallery's X-Avant Festival. As a sister event, at 8pm at their St. George the Martyr Church venue, the festival will also feature an improvised quartet performance featuring Pauline Oliveros (v-accordion), Ione (spoken word), Anne Bourne (cello) and Doug Van Nort (electronics).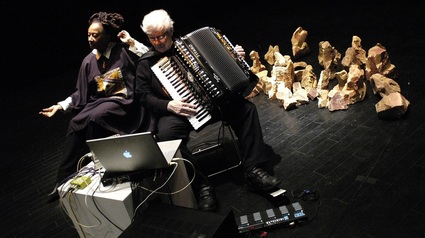 ---
September 3rd @ 7:15pm
Intersections
Yonge-Dundas Square
​1 Dundas St E., Toronto
"​Saxophonist & composer Kyle Brenders bring his large format electro acoustic ensemble out for another run after their jaw dropping set at this years Somewhere There Festival. Featuring a real who's who line up of Toronto's avant whatever scene, including Ben Grossman (hurdy gurdy,electronics), Germain Liu (percussion), Peter Lutek (clarinet, electronics), Karen Ng (alto sax), Cheldon Paterson (turntables), Nicole Rampersaud (trumpet), Nick Storring (cello, electronics), Brandon Valdivia (drums), Doug Van Nort (electronics), and Brenders himself (saxophones). Kyle weaves this group through humble melodic phases amidst unsettling drones, minimalist distortion & electronic noise. Diving deep into a murky swamp like environment of low hums and buzzing electronics like flies…"
---
May 19th @ 7:30pm
Tout Croche
Electro-Acoustic Orchestra
Montreal-based Tout Croche is Stephen Harvey & Dominic Thibault. a haven of post-genre sonic experimentation and music making that marvels at noise from beautiful ambience to digital distortion.
This performance is a stop on Tout Croche's Quebec-Ontario tour, and also features a performance of EAO's soundpainting-based piece, recently played at ISIM.
---
May 12th @ 2:00pm
Electro-Acoustic Orchestra at the 2016 International Society of Improvised Music (ISIM) Festival and Conference
The EAO performs an hour-long set at ISIM. This will be a structured improvisation featuring soundpainting-based conducting.
Wilfrid Laurier University
75 University Ave W, Waterloo, ON

---
March 29th @ 6:00pm
Uncanny: A Telematic nO(t)pera is a semi-composed, semi-improvised performance linking six performers and their audience across one virtual and five real sites of performance. The musicians utilize their deep listening skills as they listen across networks, across N. America, and across radically different acoustic spaces and instrumentations, in order to find convergence through musical dialogue.
Performers from Stanford (California), RPI (New York) and York Student Projects Gallery will be projected onto materials within the DisPerSion Lab, forming an uncanny trace of their bodily presence, embedded on a blended "stage" with a live electronics performer. Public activity from the Accolade West hallway, leading up to the Student Projects gallery, will be mapped into visual and sonic art and projected within DisPerSion Lab, creating a texturized doppelganger of the activity just outside the Gallery site of performance. The website https://wordpress-311999-2855731.cloudwaysapps.com/live-stream will provide another realization of the performance, allowing audience to chat, interact via twitter, and alter the outcome by conducting the musicians during one section of the piece. The York-based audience is invited to wander between the differing performative realities of the public spaces, the virutal online platform, the live performance within the gallery, and the live performance within DisPerSion lab.
featuring performances by:
Anne Bourne (cello) – York Special Projects Gallery, York University Toronto, ON
Chris Chafe (celletto) – CCRMA, Stanford University, Palo Alto, California
Pauline Oliveros (V-Accordion), Jonas Braasch (Soprano Saxophone) – CRAIVE Lab, Rensselaer Polytechnic Institute, Troy, NY
Doug Van Nort (electronics) – DisPerSion Lab, York University, Toronto, ON
featuring Digital Media art and design work by:
Gale Cabiles – promotional video and graphics
Kevin Feliciano – audio networking and DisPerSion Lab sound engineering
Akeem Glasgow – public, interactive sonic instrument
Radi Hilaneh – video processing and in-York networking
Justin Hsieh – Gallery design and layout
Raechel Kula – DisPerSion Lab projection surfaces and visual design
Rory Hoy – network mapping design
Candy Hua – interactive lighting control, DisPerSion Lab
Tony Liu – remote conducting of performance sites
Sam Noto – visual streaming to virtual performance site
Sarah Siddiqui – website audio remixing/streaming
Keren Xu – promotional video and graphics
Yirui Fu- network lighting control, sound-to-light mapping, DisPerSion Lab
Mingxin Zhang – lighting effects, DisPerSion Lab
Cary Zheng – video networking between sites, documentation
​Keke Zhou – public, interactive visual instrument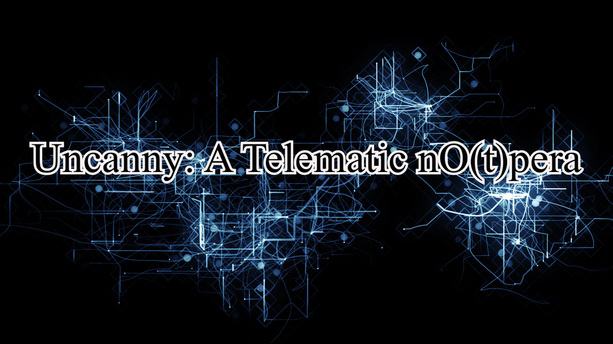 ---
March 16th @ 4:30-6:00pm
Electro-Acoustic Orchestra Session! RSVP to come and try out as a member of EAO for Winter/Spring 2016.
---
March 9th @ 4:30-6:00pm
Electro-Acoustic Orchestra Session! RSVP to come and try out as a member of EAO for Winter/Spring 2016.
---
March 2nd @ 4:30-6:00pm
Electro-Acoustic Orchestra Session! RSVP to come and try out as a member of EAO for Winter/Spring 2016.
---
February 25th @ 4:30-6:00pm
Electro-Acoustic Orchestra Session! RSVP to come and try out as a member of EAO for Winter/Spring 2016.
---
​​February 20th @ 8:00pm
SLM Ensemble: TransForm
An Evening of Experimental Music Works
Jane Ira Bloom, soprano saxophone
David Morales Boroff, violin
Min Xiao-Fen, pipa
Ned Rothenberg, alto saxophone, bass clarinet
David Taylor, bass trombone
Denman Maroney, piano
Mark Helias, bass
Gerry Hemingway, drumset
Sam Pluta, computer, electronics
Doug Van Nort, computer, electronics, sonifications
Sarah Weaver, conductor, composer
Leonard Nimoy Thalia
Symphony Space
2537 Broadway at 95th Street
New York, NY
---
February 9th @ 3:30 – 5:30 pm
STAPLR DisPerSion
William Denton
(York University Libraries)
Doug Van Nort
(School of the Arts, Media, Performance & Design)
and the
Students of DATT 3200 Performing Telepresence
Re-imagine the real-time streams emanating from, to and about York University Libraries in their physical and virtual homes.
Featuring:
STAPLR – William Denton's sonification of YUL reference desks
(listen remotely at staplr.org)
and
Sound, Light and Text Instruments – created by Van Nort and students, that react to YUL reference data and to Twitter feeds
(@yorkulibraries, @FrostLibrary, @Bronfmanlibrary, @ScottLibrary, @SteacieLibrary, @dispersion_lab)
Performed between all branches of York University Libraries (Bronfman, Maps, Scott, SMIL, Steacie) and the DisPerSion Lab by DATT students,
using Twitter as their interface.
Experience the immersive version at the DisPerSion Lab (334 Centre for Fine Arts),
​Watch/Listen/tweet to the virtual feed (video, audio, Twitter) atwww.wordpress-311999-2855731.cloudwaysapps.com
Participate and help perform the piece by tweeting @dispersion_lab
​